In honor of World IPv6 Launch, taking place today, June 6, 2012, O'Reilly has a deal running for 50% off the price of IPv6 ebooks.
NOTE: The deal expires at 11:59pm US Pacific time tonight!
So you only have about 10.25 hours left to make the purchase!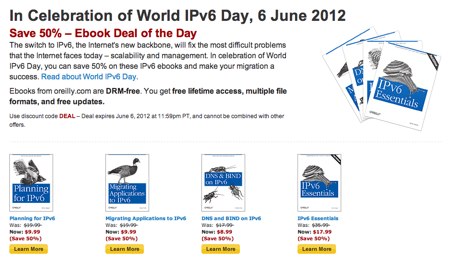 As I've mentioned previously, I'm a big fan of purchasing directly from O'Reilly because in doing so you get into their update notification program. Anytime an author has updates, you get a notification and can easily download a new version. Given that I expect IPv6 application migration to continue to evolve as we get more IPv6 availability, I'll undoubtedly be making further updates… and by buying from O'Reilly you'll get notified!
PLUS… all O'Reilly books are DRM-free, a topic I've ranted about on other sites!