The good folks at O'Reilly let me know that you can now get 50% off the purchase of "Migrating Applications to IPv6" (and all other O'Reilly ebooks) through September 10, 2013, simply by using the discount code "B2S3" when you are checking out. The sale page has more information: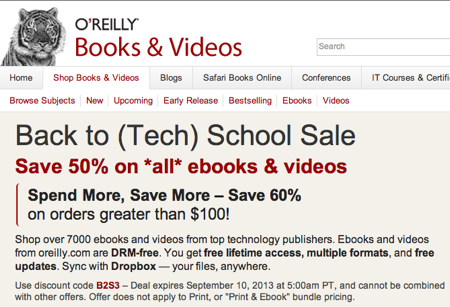 I would definitely encourage you to buy my book directly through O'Reilly when you can because you get:
DRM-free – you can put it on as many devices as you want, and it's yours.
As many formats as you want – EPUB, Mobi, PDF, whatever…
Notification of (free) updates – and, as I noted, I'm working on some updates now.
It's well worth it… I'm buying my tech ebooks directly from O'Reilly whenever I can now, simply because of these three points!
Thank you for considering the purchase of this book – and please do let me know if you have any suggestions or feedback to help make it better. The entire point of the book was to help application developers be able to make their application work over IPv6… so I want to hear from you about how this book can help!