I'm very pleased to announce that "Migrating Applications to IPv6" is now available for purchase as an eBook from O'Reilly Books: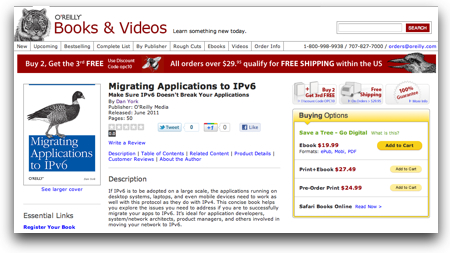 The book is available in the formats of ePub, Mobi and PDF and should work with any eBook reader out there, including the iPad, Kindle, Nook, iPhone, etc.
The beautiful thing about purchasing the book as an eBook from O'Reilly is that you will be notified as soon as there are any updates. Given that companies and software vendors are only now starting to really look at migrating to IPv6, I expect that there will be a good bit of change in the time ahead as people learn more about migrating applications to IPv6. My plan is to periodically update the book as more information becomes available as more apps are migrated. For that reason, I'd strongly encourage you to purchase the eBook version of the book so that you'll keep getting upgrades as they become available.