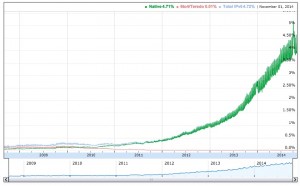 It is fun to watch the various IPv6 statistics sites because they continue to show the amazing growth of IPv6 around the world.  The World IPv6 Launch measurements now show Verizon Wireless' network at 59% IPv6, T-Mobile USA at 43%, AT&T at 25%.  Google's IPv6 statistics show that traffic into Google web sites globally is about to hit 5%.  And then today Akamai launched new IPv6 trend charts that show IPv6 traffic out of Belgium at 29.2%, from Germany 12% and from Luxembourg and the USA right at 10% with Peru not far behind.
All of this shows that IPv6 deployment is very real!  If you haven't started migrating your applications so that they will work over IPv6 in addition to IPv4, why not?
Obviously I'd encourage you to buy the book to help understand what you need to do… but you can also view the many IPv6 resources out there on the Internet to learn more!  The key point is that you need to get started NOW!  IPv6 is being deployed globally – will your application work over IPv6?